2019 Challenge Calendar
We offer several challenges throughout the year to help keep you motivated. Learn more about them below and download the Challenge Calendar for posting on your wall.
Recent Challenges
Skeleton Crew Challenge
October 25–31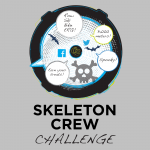 In honor of Halloween, we invite you to participate in the Skeleton Crew Challenge.
Row and/or ski at least 31,000 meters between October 25 and October 31 to get on the honor board and receive your certificate. Adaptive athletes and juniors aged 16 and under can also participate at the 10,000m level.
Upcoming Challenges
Holiday Challenge
November 28–December 24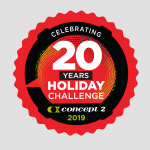 Row, ski or ride as much as you can between American Thanksgiving and Christmas Eve. We have honorboards and downloadable certificates for everybody who reaches 50k (adaptive and kids only), 100k and 200k.
For every person who does at least 100k during the challenge (50k for adaptive athletes or athletes aged 16 or under), Concept2 will donate $.02 per kilometer (1000 meters) to your choice of the following organizations: The Nature Conservancy, 350.org, The Sierra Club, Renewable World or Vermont Natural Resources Council. And once you get beyond 100k, we'll donate $.04 per kilometer. Anybody who reaches 200k and has chosen to give money to charity will receive a free Holiday Challenge pin.
Note: BikeErg meters count for half the distance when applied to the challenge.