2022 Challenge Calendar
We offer several challenges throughout the year to help keep you motivated. Learn more about them below and download the Challenge Calendar for posting on your wall.
Current Challenges
Holiday Challenge
November 24–December 24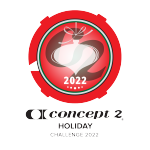 Row, ski or ride as much as you can between American Thanksgiving and Christmas Eve. We have honorboards and downloadable certificates for everybody who reaches 50k (adaptive and kids only), 100k and 200k.
For every person who does at least 100k during the challenge (50k for adaptive athletes or athletes aged 16 or under), Concept2 will donate $.02 per kilometer (1000 meters) to your choice of the following organizations: Ukraine–Prytula Foundation, Clean Air Fund, Global Fund for Women, American Council of the Blind or Vermont Parks Forever. And once you get beyond 100k, we'll donate $.04 per kilometer. Anybody who reaches 200k and has chosen to give money to charity will receive a free Holiday Challenge pin.
Note: BikeErg meters count for half the distance when applied to the challenge.
Upcoming Challenges
January Revolution
January 1–31
Sign up to the January Revolution to kick-start your year. There are a number of different goals to motivate you.
---
Virtual Team Challenge
January 1–31
Kick off the new year by joining a team (or creating your own) to participate in the Virtual Team Challenge! Each team rows, skis or rides as many meters as they can collectively for the month of January. Note: This is a team challenge. You must belong to a team to participate. This is not the same as your club affiliation in your profile.
Full instructions can be found on the Virtual Team Challenge page.
To join or create a team, visit the Teams page.